Grandmaster
WAN Kam Leung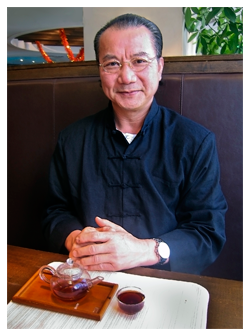 Grandmaster WAN Kam Leung (溫鑑良)
was born in 1945 in Po On village in the Guangdong Province of Southern China. His interest in Martial Arts began at an early age and by his teens he experienced various traditional styles of Kung Fu in China. In 1959, Grandmaster Wan emigrated from China to Hong Kong. His older brother introduced him to a Kung Fu style called Wing Chun. Grandmaster Wan's first teacher was YIP Man's first disciple, LEUNG Sheung. In 1962, when the Wing Chun legend, late Grandmaster WONG Shun Leung, opened his own school, the young Grandmaster Wan signed up on the first day and quickly become a close friend of Wong Shun Leung. In 1969, Grandmaster Wan became an official Wing Chun instructor in his own right and began active teaching.
Since late Grandmaster Wong was a close friend and Wing Chun tutor of the great Bruce Lee, young Grandmaster Wan trained and exchanged martial arts knowledge with Bruce Lee when the actor returned to Hong Kong from America. The martial art talents became friends. At Bruce Lee's request, Grandmaster Wan was invited to perform in a screen test with him, a few months before he passed away in 1973. Since then, Grandmaster Wan has been interviewed for several documentaries on Bruce Lee's life.
In 1979, in order to increase the practicality of his Wing Chun Kung Fu skills, Grandmaster Wan went to Beijing, China's capital where he learned different styles of Qi Gong (Hei Kung) from various masters. Since the Wing Chun forms were developed hundreds of years ago, many techniques have been misinterpreted and become obsolete. Under his teacher's guidance and support, Grandmaster Wan continued to test, compare, and improved the techniques he learned. In 1988, Grandmaster Wan was awarded the "Senior Instructor Certificate" by Grandmaster Wong Shun Leung, he was the only Wong Shun Leung student achieved such rank. With his outstanding Wing Chun Kung Fu skills, Grandmaster Wan was invited by the Hong Kong Police Force as the Chief Wing Chun Instructor for the G4 (VIP Protection Unit) in 1993. He was the only Kung Fu master ever employed by the former British Hong Kong government.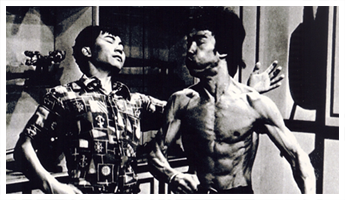 Since Grandmaster has modified the Wing Chun techniques he previously learned, it was necessary to give this modified Wing Chun system a name in order to separate his style from others. With Grandmaster Wong Shun Leung's consent, Grandmaster Wan chose "Practical Wing Chun" in 1994 as the nameplate of the Wing Chun Kung Fu system he developed. After his teacher passed away in 1997, Grandmaster Wan established his own school and began teaching full time. His objective is to propagate Practical Wing Chun Kung Fu and emphasize that it is has been modified into a modern day practical combating art and the effective way to increase strength, self-confidence and all round positive health development.
To continue the legacy of the late Grandmaster Wong, Grandmaster Wan encourages Practical Wing Chun practitioners to approach their training in the most positive and realistic way. We should always practice the techniques he developed, test and compare them, prove or disprove them. We may discard the obsolete techniques when necessary, refine or improve upon them. Therefore, Wan Kam Leung Practical Wing Chun Kung Fu is not only an art of self-defense, but also a product of continuous scientific analysis and development.
Master
William KWOK Wai Yin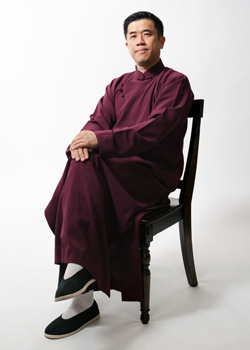 Master William Kwok is an internationally recognized martial arts educator with over 40 years of martial arts experience. Born and raised in Hong Kong, Master Kwok has practiced martial arts since 1979. He is Grandmaster WAN Kam Leung's first closed-door disciple to have both completed the Practical Wing Chun system and taught it professionally outside of Hong Kong. He is also the first Regional Director and official instructor of Practical Wing Chun in America.
Master Kwok is the headmaster of Gotham Martial Arts and the founder of
Martial Arts Education Society
. He also serves as the Co-Chair of Harvard Alumni for Education in New York City. Ever since Master Kwok established Gotham Martial Arts in 2007, numerous newspapers, periodicals, and television programs have profiled him. He has also served as a guest speaker on martial arts topics at prestigious universities and multinational corporations such as Harvard University, Princeton University, Hong Kong University of Science and Technology, and JP Morgan Chase. His efforts have earned him numerous accolades over the years. In 2015, he was honored with the "Community Leadership Award" by the US President's Council on Sports, Fitness & Nutrition Award. In 2017, he became the first recipient of the "Silver Achievement Award" presented by the World Ving Tsun/ Wing Chun Association. In February 2019, the Certificate of Special Congressional Recognition was presented to him for his outstanding and invaluable service to the community.
Master Kwok comes from a strong academic background. He is currently pursuing a Doctor of Education degree in Curriculum, Teaching, Learning, and Leadership at Northeastern University. Prior to that, he earned master's degrees from Harvard University and St. John's University. He also studied physical education and movement science at Columbia University. Master Kwok was an adjunct professor of managerial studies at the City University of New York before teaching martial arts full-time.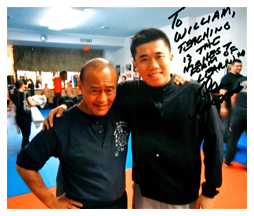 As a professional martial arts educator, Master Kwok's mission is to provide martial arts education by integrating the development of the mind and body, based on the core principles, virtues and traditions of martial arts training. He believes that learning and teaching methods of martial arts can be advanced based on modern education theories and science. Doing so will add value and improve the experience for students and teachers.
To learn more about Master Kwok, please click
here
for his Wikipedia biography.