Grandmaster
WAN Kam Leung
Founder of Practical Wing Chun (PWC)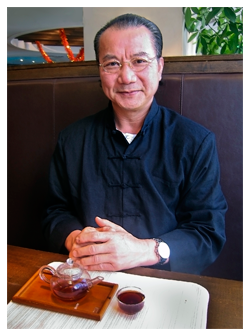 Grandmaster WAN Kam Leung (溫鑑良)
is the founder and creator of Practical Wing Chun, with branches and students all over the world. His style adheres to the core principles of Wing Chun he learned from his respected teachers but has been refined to suit today's world and lifestyle better. Grandmaster WAN Kam Leung is a world-renowned and respected martial arts authority who has frequently been featured on television, print, and online media around the world.
The Making of a Master
Grandmaster Wan took a keen interest in martial arts as a child and studied a variety of styles in his long career. His quest led him to Wing Chun in 1959, when he took instruction from Leung Sheung, the first Hong Kong-based disciple of the legendary Yip Man. In 1962, he began training under legendary Grandmaster Wong Shun Leung, acquiring the entirety of Grandmaster Wong's extensive knowledge and profound understanding of Wing Chun. Grandmaster Wan later became one of the few disciples to be awarded the "Senior Instructor" title by Grandmaster Wong.
Because of his teacher, Grandmaster Wan had the opportunity to train and exchange martial arts knowledge with Bruce Lee, the international superstar. Sharing the same passion, the two gifted martial artists were drawn to each other and became friends. Bruce Lee was so appreciative of Grandmaster Wan's skills that he invited him to perform in some of his movies. After Bruce Lee's untimely demise, Grandmaster Wan was interviewed in many documentaries on the life of Bruce Lee.
A Champion of Wing Chun Culture
Grandmaster Wan began teaching Wing Chun in 1969. In 1993, he was appointed Head Instructor of Wing Chun of the Hong Kong Royal Police Force's G4 VIP Protection Team. Making him the only Kung Fu Master hired by the former British Hong Kong Government. In 1994, on his teacher's suggestion, Grandmaster Wan decided to officially name his unique Wing Chun system "Practical Wing Chun."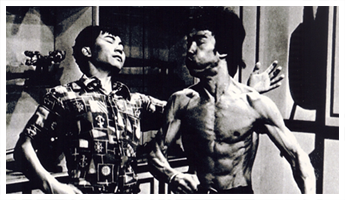 Although Wing Chun is a time-honored and tested system with a centuries-long history, Grandmaster Wan found it necessary for martial arts to evolve continuously. Like any academic discipline, it should change to keep up with the ever-evolving context of the contemporary world. He decided to improve upon the Wing Chun techniques that had been passed down to him and to further elevate the practicality of Wing Chun by optimizing the use of physics and body mechanics. This is a unique feature of Practical Wing Chun. Grandmaster Wan has also studied Qi Gong (Chi Kung) with several masters. He applied what he learned to Practical Wing Chun, creating a genuinely useful self-defense system suitable for all, regardless of their gender or age. To continue developing Practical Wing Chun based on its rich heritage, Grandmaster Wan encourages practitioners to drill hard with commitment and perseverance. Students should keep testing their techniques and comparing notes.
Thanks to his open-minded, innovative approach, Practical Wing Chun has continuously evolved. A truly unique system, people all over the world gravitate towards Practical Wing Chun - for them, training under Grandmaster Wan in Hong Kong is a dream come true. Internationally, Grandmaster Wan has been invited to various countries to offer seminars and workshops, and his students have opened schools and branches around the world.
International Recognition
Grandmaster WAN was the subject of a Page A1 feature story in The New York Times in 2016. In 2017, Wan Kam Leung Practical Wing Chun Kung Fu International, in partnership with the Hong Kong Guoshu Association and the Hong Kong Girl Guides Association, offered Kung Fu lessons to 2,803 Girl Scouts and guests. They have broken the Guinness World Record for the "Largest Martial Arts Lesson." This high-profile event showcased the healthy image of Girl Scouts armed with courage, strength, and agility, as well as testifying to the adaptability of WKL Practical Wing Chun, reinforcing Grandmaster Wan Kam Leung's undisputed place in the martial arts world.
Master
William KWOK Wai Yin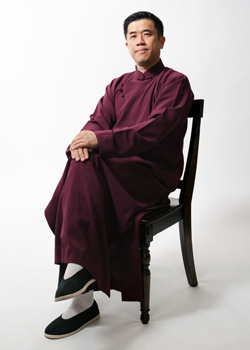 Master William Kwok (郭威賢)
is an internationally recognized martial arts educator with over 40 years of martial arts experience. Born and raised in Hong Kong, Master Kwok has practiced martial arts since 1979. He is Grandmaster WAN Kam Leung's first closed-door disciple to have both completed the Practical Wing Chun system and taught it professionally outside of Hong Kong. He is also the first Regional Director and official instructor of Practical Wing Chun in America.
Master Kwok is the headmaster of Gotham Martial Arts and the founder of
Martial Arts Education Society
. He also serves as the Co-Chair of Harvard Alumni for Education in New York City. Ever since Master Kwok established Gotham Martial Arts in 2007, numerous newspapers, periodicals, and television programs have profiled him. He has also served as a guest speaker on martial arts topics at prestigious universities and multinational corporations such as Harvard University, Princeton University, Hong Kong University of Science and Technology, and JP Morgan Chase. His efforts have earned him numerous accolades over the years. In 2015, he was honored with the "Community Leadership Award" by the US President's Council on Sports, Fitness & Nutrition Award. In 2017, he became the first recipient of the "Silver Achievement Award" presented by the World Ving Tsun/ Wing Chun Association. In February 2019, the Certificate of Special Congressional Recognition was presented to him for his outstanding and invaluable service to the community.
Master Kwok comes from a strong academic background. He is currently pursuing a Doctor of Education degree in Curriculum, Teaching, and Learning at Northeastern University. Prior to that, he earned master's degrees from Harvard University and St. John's University. He also studied physical education and movement science at Columbia University. Master Kwok was an adjunct professor of managerial studies at the City University of New York before teaching martial arts full-time.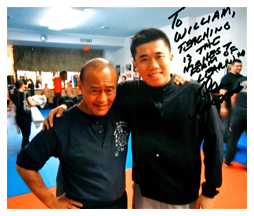 As a professional martial arts educator, Master Kwok's mission is to provide martial arts education by integrating the development of the mind and body, based on the core principles, virtues and traditions of martial arts training. He believes that learning and teaching methods of martial arts can be advanced based on modern education theories and science. Doing so will add value and improve the experience for students and teachers.
To learn more about Master Kwok, please click
here
for his Wikipedia biography.